The way of getting discount on Aliexpress
1. Go to the product page – Makibes HR1 on Aliexpress and buy from 
$16.59
2. And write to the seller, the phrase "nopending"
3. Get the price from 
$16.59 

and save up to 

$7

In both cases, you will receive priority dispatch and control of seller.

Detailed instructions on how to get a discount, see below or watch the video.
Tutorial of code: nopending
1

. Go to the website Aliexpress.com and click on the button "LOGIN" if you are already registered or click on REGISTER if not yet.

2

. Go to the product page by clicking on the link –
Makibes HR1
3

. Go to the next page where:
    a. Will specify the address of delivery
    b. In the line "Leave a comment for the seller". (Leave message for this seller), write: "nopending"
    c. If you have the item "Methods of payment" (Payment method), choose "Other payment methods" (Other payment methods)
    d. Click on the button "Confirm and pay" (Confirm & Pay) or "place order" (Place Order)
4. And go to the next page where:
    a. You need to choose a payment method and
    b. STOP
    c. Now wait until the seller changes the price of the goods
When the seller change the price?
Because the price changes a human and not a robot and the time difference we have with China +5 hours, the seller changes the price from 4 a.m. until the hour of the day, if you order later 13:00 the price will change on the following day (excluding Saturday and Sunday).

5. On change learn in the menu "My Orders"
6. You CAN now pay for your order.
If the seller has lowered the price throughout the day, be sure to write to us about it in the comments at the bottom of this page (the order number + dealer), we will deal.
* Always-on heart rate monitor: continuous, automatic heart rate tracking right on your wrist per second.
* All-day activity tracking: steps, calories burned, mileage.
* Sleep monitor: sleep time & sleep quality.
* Bluetooth 4.0, compatible with Android 4.4 and above system, ios 8.4 and above system.
* Smart reminder: call reminder, messaging push, sedentary reminder.
* 0.96″ OLED screen,Customizable clock faces,IP67 waterproof.
* 90mAh battery capacity, working time up to 7 days (Battery life and charge cycles vary with use, settings, and other factors; actual results will vary.)
* USB Port on Host, no need of charging cable
* APP/APK(WearFit 2.0) and messaging push support languages:English, Russian, Portuguese, Spain, German, French, Italian, Japanese, Korean, Simplified Chinese, Traditional Chinese.
* More features: phone search, remote camara shoot, stop watch.
o.
Original Makibes HR1 Smart Bracelet Fitness Activity Tracker Continuous Heart Rate Monitor 0.96″ OLED Bluetooth Wristband
Standout Features
Continuous heart rate/USB direct charge/Customizable clock faces / Smart reminders/Long battery Life Up to 7 days
Essential Feature
All-Day Activity/Auto Sleep Tracking & Sleep Stages/IP67 Rated Waterproof/Stopwatch/Phone Search
Continuous Heart Rate (CHR)
The HR1 features accurate optical sensor and advanced algorithms. It tracks your heart rate continuo.
Better track calorie / Maximize workout /Get a dearer picture of heart rate and health
0.96" Large-size OLED Screer
The HR1 has a 0.96 inches OLED screen much larger than other ordinary fitness trackers, more details on the screen.
4 Customizable Clock Faces
Choose your clock display based on the stats you want to see and the design that suits your taste.
Count More Than Steps
Train smarter with real-time information. The HR1 delivers live stats like heart rate calories burned,
trace (on APP), etc. when you are on the go.
Sleep Monitor
The HR1 monitors your overnight sleep, records the deep sleep and light sleep.
Check the sleep trend through the APP and help to improve the quality of sleep.
Raise Wrist to Wake
Raise your hand to briflhten the screen without taping screen to see real-time stats including date,
time  and heart rate.
Intelligent Reminder
Including alarm, calls, SMS, sedentary reminder, intelligent anti-lost,
etc, not only vibration but also screen display. Meanwhile,
when comes messages from Facebook, Twitter, WhatsApp, Wechat, QQ, LINE, they  will display on the screen.
Languages supported: English, русский, España,français,Deutsch, italiano,
Português,한국어,日本語,中文

Full-featured APP for iOS & Android
You can customize your own home page and make some adjustment to given health parameters like putting your most concerned one first. Get a full picture of your health, review sleep trend, customize your workout goals and
share exercise,you can access to more functions on APP.
Splash-proof Fitness Tracker
The HR1 is splash-proof and sweat-proof so it is safe to wear it while you are doing sports or washing hands.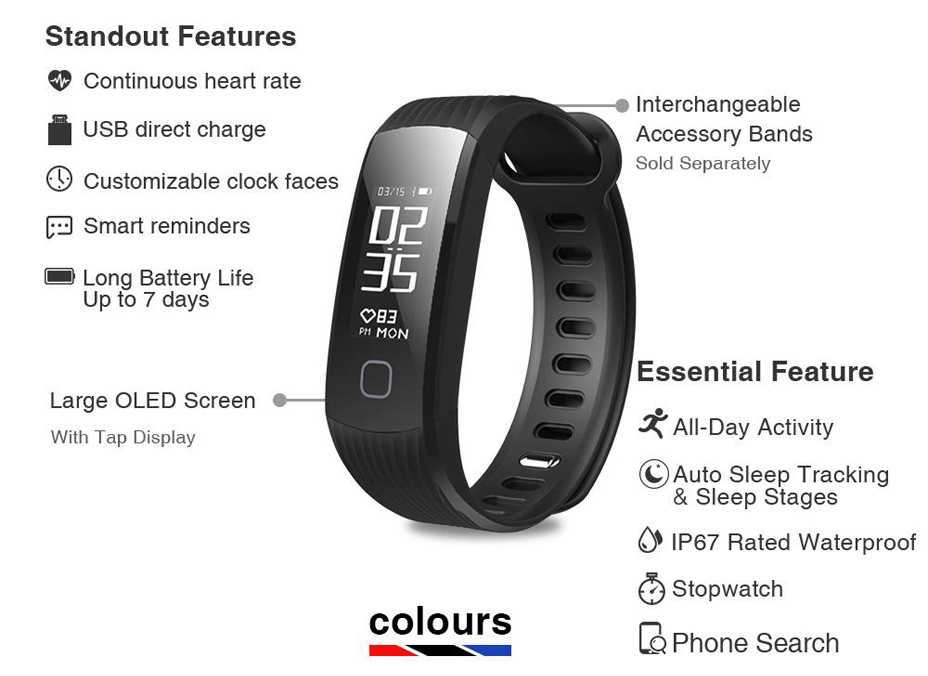 USB Charging & Long Battery Life
No need a charging cable, just directly inserted into power equipment USB port can charge it easily and conveniently. Running on a 90mAh Li-ion battery, the HR1 is able to keep continuously working up to 7 days.
Changeable and Comfortable Strap
The strap of HR1 is made from soft TPU with smooth finish for sporty look.
There are three colors – black, blue, and red for your choice to fit your style.
Always-on heart rate monitor
Continuous, automatic heart rate tracking right on your wrist per second.