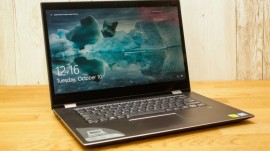 Lenovo's Yoga two-in-one laptop line is so varied in sizes and configurations that it can be very difficult to nail down the differences between them. To further confuse things, the Yoga 520 is called the Flex 5 in the US and it comes in two sizes, one of which — the 15.6-inch model reviewed here — is only available in the US.
Lenovo Flex 5-1570
| | |
| --- | --- |
| Price as reviewed | $850 |
| Display size/resolution | 15.6-inch 1,920×1,080 touch display |
| PC CPU | 2.7GHz Intel Core i7-7500U |
| PC memory | 8GB DDR4 SDRAM 2,400MHz |
| Graphics | 2GB Nvidia GeForce 940MX |
| Storage | 256GB PCIe SSD |
| Networking | 802.11ac wireless, Bluetooth 4.1 |
| Operating system | Windows 10 Home (64-bit) |
The 15.6-inch Flex 5's 4.4-pound weight (2 kg) and larger size make it a bit unwieldy to use handheld as a tablet. Set it down on your lap or a table and the extra screen space is really nice to have, particularly for configurations with the pen-enabled full HD display. (It's also available with a 4K UHD-resolution display, but it doesn't support an active pen and the higher resolution typically shortens battery life.)
While the screen's brightness and color quality are very good, it doesn't get quite bright enough to combat the glare off the glass panel. Trying to use this under bright lights or outside was frustrating. Otherwise, the full HD screen I tested was excellent for photos and video and was responsive to both fingers and Lenovo's Active Pen.
The 360-degree hinges paired with the larger screen is also valuable for getting the keyboard out of the way so you can focus on the display for video or presentations. Or you can hook up an external keyboard and mouse for more of a desktop experience. There are two USB 3.0 ports — one on each side — and a USB Type-C 3.0 (gen 1), an SD card reader, an HDMI out and a combo mic/headphone jack, so there are plenty of connection options to go around, but you'll need an adapter for Ethernet.
When you're away from your desk, this system's keyboard, touchpad and speakers all offer solid performance. The backlit keyboard has just enough travel and snappy response to make typing comfortable for long stretches and the Windows precision touchpad is smooth and responsive without any jumpiness. The speakers are loud, with good clarity and adequate bass. You'll still be better off with headphones or external speakers if you're trying to hear over the system's fans when the laptop is under load, though.
Streaming all day long
There are several configurations available for the Flex 5, so your performance is going to vary depending on what you get. The combo I had proved to be a good balance of performance and price. Its seventh-gen Intel Core i7-7500U processor is the top offering, but you can get it with a Core i3-7100U or i5-7200U. Other choices include 8GB or 16GB of memory; 256GB or 512GB PCIe SSD or a 1TB 5,400rpm hard drive, or a 1TB 5,400rpm hard drive plus a 512GB PCIe SSD; and Nvidia GeForce GT 940MX or integrated Intel HD Graphics 620.
Though it's not necessary for general use, the 940MX card was nice to have for photo and video editing. It's not meant for gaming, but if you set the game's graphics settings to low, you can get playable frame rates with it. For the best performance, I would keep the slow hard drive out of your configuration. Also, if you want a 15.6-inch two-in-one design with more graphics power, you can step up to the Yoga 720, which is available with an Nvidia GeForce 1050 GPU.
Lenovo rates the battery life at up to 8 hours for the Flex 5, but we did better than that with streaming video. You can binge-watch quite a lot with our configuration, which ran for 10 hours and 23 minutes.
Flipping for the big screen
The 15.6-inch Lenovo Flex 5 is a very good alternative to a traditional mainstream laptop. Though it is thin and relatively lightweight, it's maybe just a bit too much to carry around every day. But, the bigger screen does make it a good choice for general home office use or schoolwork, especially if you're going to be using its display full-time. And when it's time to stop working and kick back, the added screen flexibility and the Flex's crisp-sounding stereo speakers are terrific for movies, music and games.
System configurations
| | |
| --- | --- |
| Lenovo Flex 5-1570 | Microsoft Windows 10 Home (64-bit); 2.7GHz Intel Core i7-7500U; 8GB DDR4 SDRAM 2,400MHz; 2GB Nvidia GeForce 940MX; 256GB SSD |
| Samsung Notebook 9 Pro | Microsoft Windows 10 Home (64-bit); 2.7GHz Intel Core i7-7500U; 16GB DDR4 SDRAM 2,133MHz; 2GB AMD Radeon 540 Graphics; 256GB SSD |
| Asus VivoBook S | Microsoft Windows 10 Home (64-bit); 2.7GHz Intel Core i7-7500U; 8GB DDR4 SDRAM 2,400MHz; 128MB Intel HD Graphics 620; 128GB SSD + 1TB HDD |
| Samsung Notebook 9 (15-inch) | Microsoft Windows 10 Home (64-bit); 2.7GHz Intel Core i7-7500U; 16GB DDR4 SDRAM 2,133MHz; 2GB Nvidia GeForce 940MX; 256GB SSD |
| Apple MacBook Pro (15-inch, 2017) | Apple MacOS Sierra 10.12.5; 2.9GHz Intel Core i7-7820HQ; 16GB DDR3 SDRAM 2,133MHz; 4GB Radeon Pro 560 / 1,536MB Intel HD Graphics 630; 512GB SSD |
| LG Gram 15 | Microsoft Windows 10 Home (64-bit); 2.7GHz Intel Core i7-7500U; 16GB DDR4 SDRAM 2,133MHz; 128MB dedicated Intel HD Graphics 620; 512GB SSD |